Transumanze di | by Andrea Mura
Documentario | Documentary
Italia 2021, 52′, 2k, 16:19, colore
Produzione | produced by Andrea Mura, Ginko Film
Il film racconta la grande migrazione dei pastori sardi in Toscana degli anni '60. Una storia italiana poco raccontata di lavoro, conflitti sociali ed emancipazione nel passaggio dalla mezzadria all'industrializzazione. Transumanze è un racconto corale che è scoperta del paesaggio, delle campagne, di un'attività ancora profondamente radicata nelle pratiche della pastorizia tramandate di generazione in generazione, ma anche racconto di uomini, di transumanze e di comunità che si ricostituiscono nonostante il mare.
The movie tells the story of the great migration of Sardinian shepherds to Tuscany in the '60s. An under-reported Italian tale about work, social conflicts and emancipation during the passage from sharecropping to industrialization. Transumanze is a collective tale about the discovery of the landscape, of the countryside, of an activity such as pastoralism which is still deeply rooted in the territory and which is dealing with the challenges of the contemporary world; it's also a tale of men, transhumance and communities which re-form despite the sea.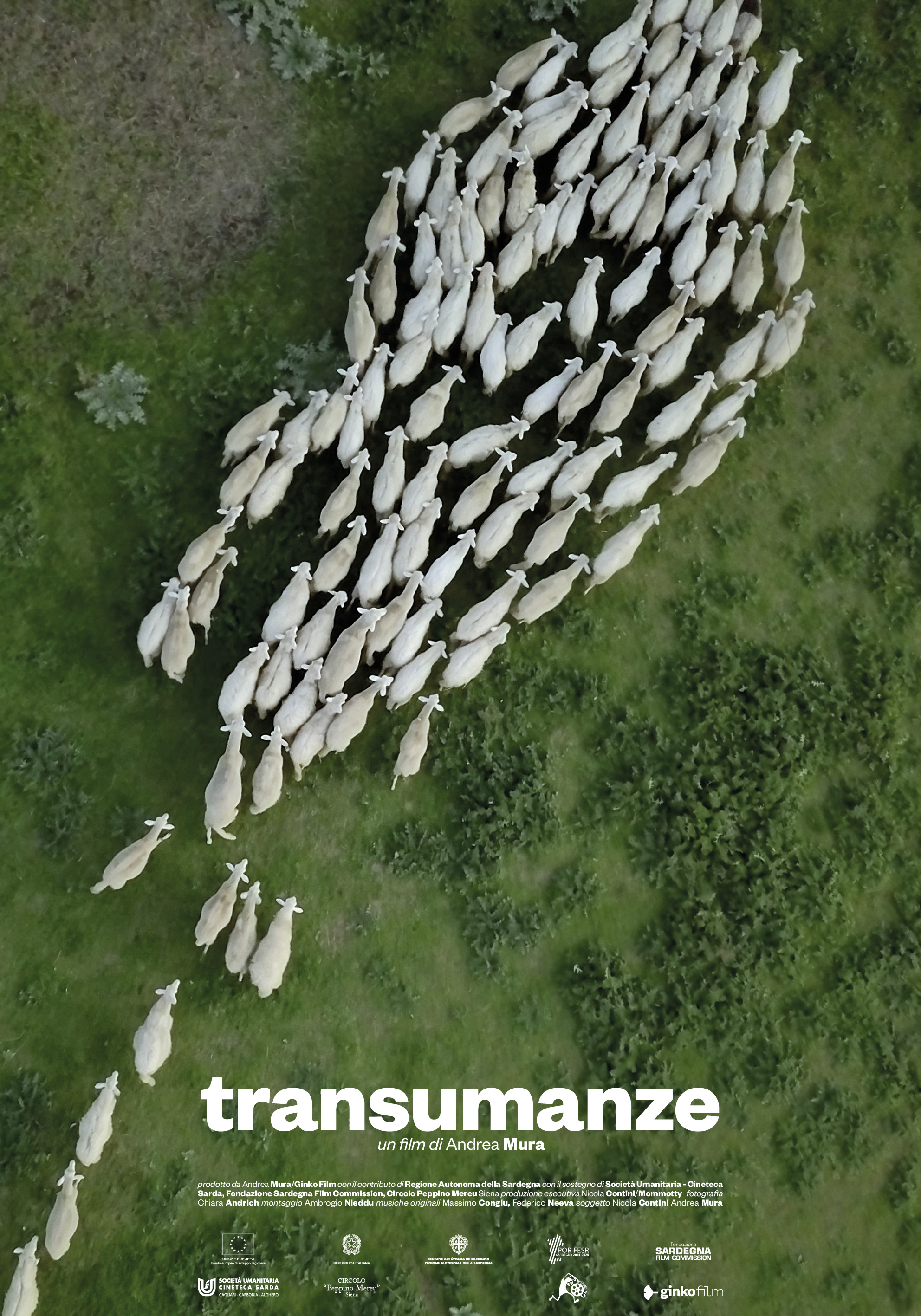 CREDITS
Regia / Direction Andrea Mura
Soggetto / Idea Nicola Contini, Andrea Mura
Fotografia / Photography Chiara Andrich
Montaggio / Editing Ambrogio Nieddu
Suono / Sound Cladinè Curreli, Andrea Mura
Musiche / Musics Massimo Congiu, Federico Neeva, Tenore Murales di Orgosolo
Mix Audio Roberto Cois
Sound design Roberto Cois, Cladinè Curreli
Color correction Emanuele Malloci
Progetto grafico / graphics Valerio Aprigliano
Traduzioni / Translations Katrin Thekla Hupke
Consulenza scientifica / scientific consultant Tommaso Sbriccoli
Produzione esecutiva / Executive production Nicola Contini per Mommotty
Produzione / Production Andrea Mura, Ginko Film
Finanziato da / Funded by Regione Autonoma della Sardegna
Con il contributo di / With the support of Società Umanitaria – Cineteca Sarda, Fondazione Sardegna Film Commission, Circolo Peppino Mereu Siena